ON-SITE COOKING AND GRILLING
Have our custom, competition BBQ pit brought to your next location for an event to remember. Our catering professionals will prepare your next meal over a local oak and hickory mixture in full view of your guests. Our chef will prepare your hand picked menu right in front of your party for the ultimate BBQ experience.

Select from the protein items (beef, pork, poultry and seafood) and side dishes to build the perfect BBQ for your group. Pricing is based on the number of selections and the size of the group. 18% gratuity will automatically be included in the total cost. Organic and Free-Range options are available at your request. Here are some of our most popular selections: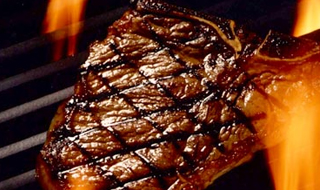 BEEF
Tri-Tip: Choice sirloin grilled to perfection over oak coals
BBQ Beef: Tender chunks of treetop grilled, covered, and simmered in our house BBQ sauce till fork tender
Flat Iron Steak: Rubbed with our house dry rub and grilled over oak coals
Filet Mignon: 8oz cut grilled to perfection over oak/hickory coal mixture and served with a garlic/mushroom sauce
Rib Eye: 8oz of succulent choice Rib eye grilled to perfection with our compound bbq butter sauce
New York Steak: 8oz of grilled heaven with our compound bbq butter sauce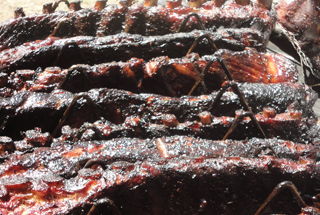 PORK

Pulled Pork: Smoked for 10 hours, hand pulled on site, and drizzled with house BBQ sauce

St. Louis Style Ribs: Rubbed with our house dry rub, slow smoked for 4 hours with our oak/hickory mixture-served dry, and choice of sauce on the side

Baby Back Ribs: Slow smoked for 3 hours and served dry

Pork Roulade: Rolled pork tenderloin, stuffed with spinach, pine nuts, goat cheese and cranberry mixture. Grilled over house coal mixture

Wood-fired Pork Tenderloin: Salt and pepper rubbed tenderloin, grilled to juicy perfection

Sausage: Your choice of bratwurst, hot link, kielbasa , cheddar wurst or turkey links- served with sauteed peppers and onions and your choice of spicy mustard, sweet mustard, deli mustard or yellow mustard.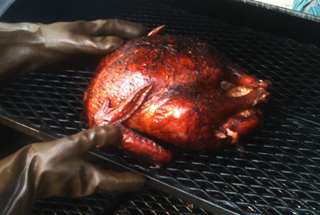 POULTRY

Smoked Chicken: Smoked whole juicy chicken, rubbed with our house dry rub. Smoked over aromatic hickory and oak

Lake Tahoe BBQ Signature Chicken Breast or Bone-in-Chicken: Marinated in olive oil, garlic, thyme and red wine vinegar-grilled to perfection

Smoked Turkey: Smoked for 10 hours to a fall off the bone perfection and served with our homemade BBQ sauce

BBQ Citrus Chicken: Chicken breast with blue cheese and bacon crumb garnish

Chicken Marsala: Grilled chicken breast with a rich marsala sauce

Chicken Piccata: Grilled chicken piccata with a button mushroom and caper explosion

Chicken Cordon Blue: Grilled breast of chicken stuffed with prisciutto or smoked ham and layered with Swiss or Irish Dubliner cheese

Honey Mustard Chicken: Bone-in or breasted chicken grilled with a stoneground mustard and honey glaze then topped with toasted and crushed pecans
SEAFOOD

BBQ Shrimp: Prawns served shell on, in our "spicy" or "regular" special BBQ, lemon, and caper sauce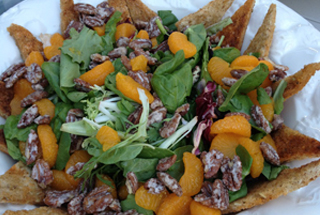 SALADS
• Tahoe BBQ House Salad: Fresh Organic spring mix, shredded carrots, mandarin orange slices, candied walnuts. Topped with our homemade croutons. Served with buttermilk Ranch dressing.
• Caesar Salad Crisp: Fresh hearts of Romaine, served traditionally with high quality Parmesan and house croutons
• Tortellini Pasta: Our al dente tortellini, tossed in our house Italian dressing with crispy green peppers, red onion and Italian parsley
• Coleslaw: Traditional sweet mayonnaise based coleslaw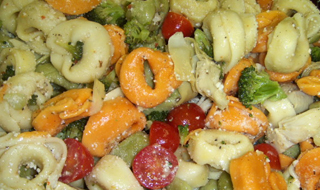 • Macaroni Salad: Traditional mayonnaise based with elbow macaroni and black olives
• Cowboy Beans: Baked beans topped with bacon, brown sugar and house BBQ sauce
• Fresh Fruit Salad: Hand cut, seasonal fruit. May include,watermelon, fresh berries, grapes, cantaloupe, pineapple or honeydew. Subject to seasonality, freshness and quality
• BBQ Corn: Grilled in a hot tub of salt, pepper butter and milk (available only when in season)
• Grilled Asparagus: Grilled in a bath of butter, garlic, lemon lemon and mushrooms. Button mushrooms sauteed in a garlic butter chardonnay sauce
• Brussels Sprouts: Brussels sprouts cooked with bacon and shallots, dijon mustard and white wine simmered to perfection, topped with parmesan cheese
Vegetarian Options
• Portobello Mushroom: Marinated and grilled, then served on a sesame seed bun topped with red onion confit and shredded white cheese
• Grilled Vegetable Kabobs: Marinated zucchini, onion, bell pepper and mushrooms- grilled till tender
• Veggie Burger: Served how you like it or with traditional toppings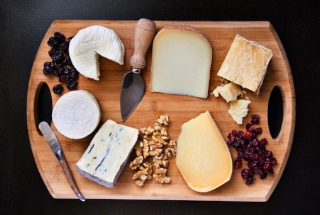 • Crudites: Broccoli, cucumber, baby carrots and celery served with Buttermilk Ranch dressing
• Fresh Fruit Platter: Fresh hand cut seasonal fruit. May include- watermelon, berries, grapes, cantaloupe, pineapple and honeydew. Subject to seasonality, freshness and quality.
• Three Cheese Display: Monterey Jack, Cheddar and Pepper Jack served with a variety of flavored water crackers
• Artisan Cheese Board: Seasonal hand picked Artisan cheeses, served with red grapes, candied walnuts and a variety of flavored water crackers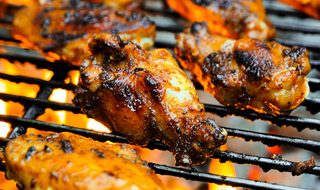 Hot Appetizers
• Chicken Wings: Smoked then broiled with your choice of sauce,"spicy,teriyaki, or our house bbq.

• Pot Stickers: Pulled pork or smoked chicken pot stickers,crunchy on one side moist on the other, served with a light vinegar soy sauce,
for dipping.
• Pulled Pork Sliders: Slow smoked pork in our house bbq sauce served on a Hawaiian sweet roll with crunchy coleslaw on top.
• Burnt End Platter: Slow smoked brisket for six hours,then taken out then re rubbed with our house dry rubbed re smoked for two, for a
delicious crunchy bbq feel.
• Shrimp Cocktail: Our fresh shrimp cocktail are fresh and delicious,served with lemon wedges and our house cocktail sauce,HOT or
regular.